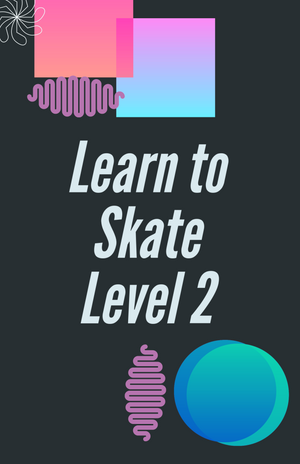 Learn to Skate Level 2 - 4 Week Program
NEW LOCATION!!!
Location - Greenwood Park Outdoor Skate Pad, 150 Greenwood Ave
Progressively building upon the skills learned each class, this week program provides an in depth breakdown of advanced skating skills. Every week we will do a deep dive into a skill and allow for plenty of questions, time to practice each drill, and more direct feedback to your development. This program is intended for skaters who can confidently stop, skate forward, are starting to skate backwards, and are looking to progress to new more challenging maneuvers.
We offer rental skates and safety pads during our lessons! If you require gear please follow this link RENTAL and lets get skating!
Week 1 Topics: 
Review of skating fundamentals, posture, proper striding; forwards and backwards, crossovers and stopping.

Transitions going from forwards to backwards and from backwards to forwards, book and pivot methods.

C-cuts and edge work, working on weaving and tight turns focusing on inner and outer edges.
Week 2 Topics 
Recap of week one - transitions in both directions and weaving edge work.

Power and balance with striding, using one foot, taking short fast steps, long one foot gliding. 

Jumping with proper form for take-off and landings, using both feet vs one foot to jump.

Starting toe-stop drills, balancing on them, side steps, walking.
Week 3 Topics 
Recap of week two - isolation striding, small jumps and being comfortable on toe stops.

Hockey stops, using small jumps to help, focus on edges and control.

Jump transitions, bringing together the two skills, maintaining speed, trying both directions. 
C-cuts and edge work while skating backwards.
Week 4 Topics 
Recap of week three - hockey stops and jump transitions, trying to increase speed.

Crossovers while skating backwards, using both legs, looking in skating direction. 

Transitioning into Toe-stop stops, practicing both one and two foot.

Time for questions and further explanation of any skills covered.